Ready to explore the profound quote "Work hard in silence and let your success make the noise"? It acts as a powerful reminder to let your actions speak louder than words. This sentiment, although not attributed to anyone, has become a modern-day mantra for entrepreneurs and those striving for success. Its relevance lies in its representation of dedication, discipline, and the quiet power of action.
In the quest for success, it's the pianist practicing alone for hours on end who epitomizes this mantra perfectly. Their efforts may go unnoticed but when it's time to perform, the melody resonates far and wide. Similarly, success doesn't require a stage or an audience but harks back to those quiet moments of hard work and commitment. So, let's unfold how you can apply this philosophy in your daily life, set meaningful goals, and make your accomplishments speak volumes.
Understanding the Philosophy of 'Work hard in silence'
We've all come across the saying, 'Work hard in silence, let your success make the noise.' This quote carries profound power in its essence, so let's dive in and see what makes this saying so noteworthy.
Why does the quote 'Work hard in silence, let your success make the noise' carry so much weight
This saying stands out because it embodies the values of dedication, discipline, and humility all in one. It encourages you to dedicate your efforts in silence, remaining humble, and let the fruits of your endeavors be the evidence of your hard work. It discourages boastful behavior and instead, promotes modesty and quiet confidence.
This quote speaks volumes to anyone who seeks success – from entrepreneurs and athletes to students and artists. It acts as a guiding philosophy for a myriad of pursuits, urging individuals to put in their best effort and remain patient for results.
Understanding the origin and popularity of this philosophical perspective
While the origin of this quote isn't firmly attributed to any one individual, it has been greatly appreciated in the modern world. Is it because today's society values loudness and constant sharing? Perhaps. This philosophy offers a refreshing counter-narrative – to be quiet, patient, and hardworking.
The Power of Dedication and Discipline
Moving onto the intricate connection between dedication, discipline, and success.
Why consistency and discipline lead to achievement
Achievement is seldom a matter of luck or overnight success. It involves maintaining steady enthusiasm, consistent effort, and regular progress. That's where discipline fits in. It keeps you anchored and committed to your goals, regardless of detours or hurdles.
Examples of high achievers who demonstrate dedication and discipline
Great achievers – athletes like Michael Jordan, entrepreneurs like Elon Musk, or musicians like Beethoven – all shared an unparalleled level of dedication and discipline. Bound by this inner resolve, they achieved remarkable feats and wrote their name in the history books.
Breaking down the discipline-dedication-success cycle
The cycle begins with setting a goal and dedicating yourself to it. Discipline helps maintain this dedication despite obstacles and setbacks. Resultantly, the consistent effort you invest then leads you to success.
Emphasizing Effort over Noise
When it comes to achievement, noise takes two forms: the clamor during the journey and the applause at the finish line.
Comparing the noise made during preparation vs achievement
Throughout the journey, noise includes distractions, self-doubt, criticism, and boasting before accomplishing anything. Post-achievement, noise could involve applause, praise, and recognition. The philosophy of 'work hard in silence' tells you to deemphasize both kinds and instead, focus on your efforts.
Impact of excessive noise on the achievement journey
Unnecessary noise can distort focus, dilute clarity, and stir self-doubt. It can create pressure, reduce enjoyment, and make the journey grueling instead of fulfilling.
The subtle power of silent effort
Silent effort, however, breeds introspection, concentration, and resilience. It helps you enjoy your work and align it closer to your inner self. It enables you to progress purely on intrinsic motivation, without the need for external validation.
Manifestations of Success
In the realm of silent hard work, success becomes the noise. But when and how does this 'noise' manifest itself?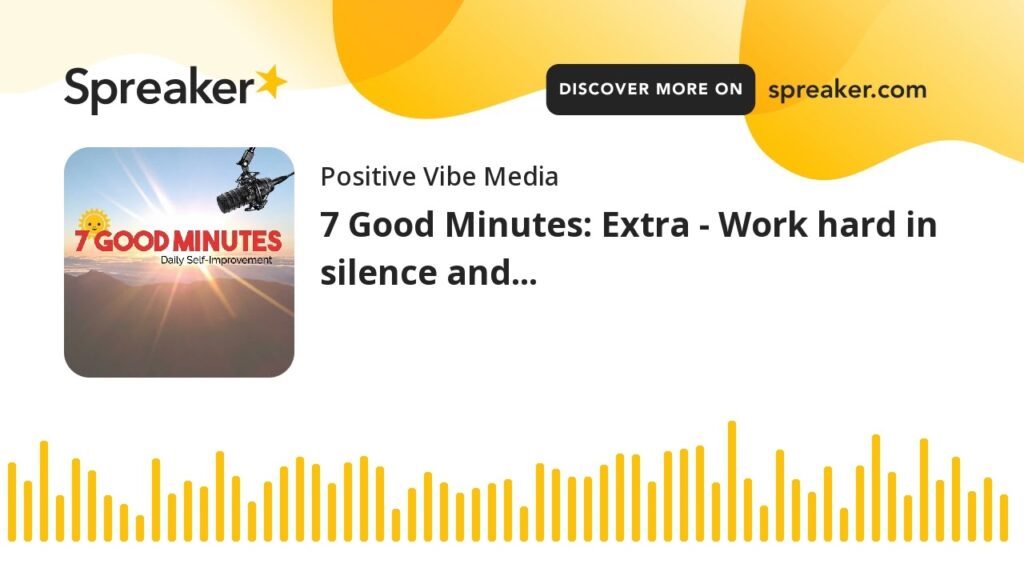 When and how success manifests itself
Success manifests when your hard work bears fruits. It could be after months or years of effort; success takes time. It usually takes the shape of accomplished goals, visible improvement, and recognition.
Signs of the imminent 'noise' of success
Before success materializes, several signs may hint at its imminent arrival. These could be gradual improvements in performance, increased confidence, or positive feedback from mentors.
Evidence that success speaks louder than words
Nothing speaks louder than success. When you consistently perform well, you command respect without speaking a word. Your success becomes the best testament to your dedication, sweating out in silence, far louder and more effective than any spoken word.
Implementing the Philosophy in Everyday Life
How can you assimilate this philosophy in your life?
Setting meaningful goals as the first step
Start by defining what success means to you. This definition/statement should guide your actions. Once you have a clearly defined goal, you can tailor your actions to fulfill it.
The importance of breaking down goals into actionable steps
Next, break down your big goal into smaller, manageable parts. This helps you stay motivated, monitor progress, and maintain focus on the journey rather than solely on the end goal.
The role of daily diligence in achieving goals
With your blueprint ready, the next step is consistent action or daily diligence. Prioritize tasks that move you closer to your goal. Every day, you should be one step closer to your dream, thanks to your diligent efforts.
Avoiding the Trap of Validation
An integral part of silent hard work is staying immune to external validation. Here's why and how you can avoid this pitfall.
Understanding the allure of external validation
In a world of social media and instant gratification, the allure of external validation is enticing. It feels good when others acknowledge our efforts and achievements. However, it's a double-edged sword. Its absence can cause self-doubt, discouragement, and a distorted self-image.
Why broadcasting every move can be counterproductive
Broadcasting your every move might fetch you 'likes' and 'comments,' but it distracts from the main goal and slows your momentum. Also, it exposes you to unnecessary criticism and comparison.
How to stay focused on objectives, not opinions
To stay focused on your goals instead of others' opinions, learn to derive satisfaction from your progress. Celebrate your small victories in silence or within a close circle. Use it as a motivator to work harder.
Celebrating Your Personal Victories
While external validation is not the aim, acknowledging and celebrating your wins privately is integral to staying motivated.
The joy of celebrating small wins
Each tiny win is a step towards your ultimate goal. Celebrating these steps helps keep up the motivation, reinforces positive behavior, and aids in maintaining momentum.
How celebrations can fuel your motivation
Every celebration serves as a reminder of your progress and capabilities. It fuels optimism and confidence, energizing you to stay true to your path.
Choosing the right circle for sharing your wins
It's beautiful to share your happiness with a trusted circle who genuinely cares for your growth. Their encouragement can uplift your spirits. However, exercise caution in choosing this circle.
Talking vs. Executing: A Reality Check
Now, it's time to evaluate your focus – whether it's more on talking about plans or executing them.
How to know when you're more talk than action
If you find yourself spending a lot of energy discussing your plans, and displaying them on social platforms, but making little actual progress, it's a red flag. Your focus has probably shifted from action to proclamations.
Shifting focus from talking about plans to executing them
How to shift back? Start by catching yourself when you wander into 'talk' mode. Redirect that energy into silent work. This shift can markedly increase your productivity and expedite your progress toward goals.
Why action speaks louder than talk
Because actions bring results; words don't. Moreover, actions are solid, concrete proof of your effort and dedication. They signal your sincerity towards your goal and overshadow empty words.
Affirmation: Commitment Over Applause
To end on a positive note, let's focus on affirmations that highlight commitment over applause.
Understand the significance of committing to your goals
Commitment signifies your dedication toward a goal. It displays your willingness to invest resources – time, energy, and effort – to attain that goal.
Why your actions, not applause, should matter most
While applause is flattering and encouraging, it's fleeting. On the other hand, your actions contribute to building your life and character. That's why, I always prioritize actions over applause.
Using affirmations to highlight commitment over applause
Use statements like "I am committed to my goals, not the applause", and "My actions speak volumes". This reinforces the philosophy and helps you stay focused on silent efforts and noises of success.
Conclusion: Making Your Success 'Noisier'
Recap of the importance of working hard in silence
Working hard in silence promotes dedication, discipline, and humility but also aids in achieving success while preserving your inner peace.
How this philosophy can shape successful lives
Practicing this approach can lead to success due to the inherent focus on consistent efforts. It can also instill a sense of contentment and satisfaction from your achievements.
Final thoughts on how your success can make its own noise
Let your success be the loudest proclamation of your untiring hard work, dedication, and discipline. This success will be sweeter as it will stem from your efforts rather than applause. So, stay committed, work hard in silence, and let your success make the noise.